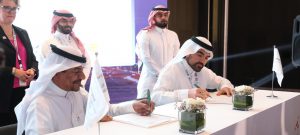 At Saudi Readymix, we are proud to be the golden sponsor of the Project Management Award for The Global Project Management Forum (GPMF). The signed-off agreement was part of their first session that took part in Saudi Arabia from June 26 to 27, 2022, in Riyadh under the slogan "The Future of Project Management: Between Digitization and Adaptation to Change."
By signing this agreement, we aim to support the objectives of The Project Management Institute by motivating project managers to keep pace with progress in project management practices and by supporting the Institute's programs and initiatives.
The Project Management Institute KSA Chapter mission is to contribute to developing the project management profession throughout the Kingdom of Saudi Arabia, spreading its culture, and promoting distinguished practices by empowering project management practitioners and providing them with the knowledge, resources, and tools required to excel in the profession.
Saudi Readymix is the major and largest supplier of ready-mixed concrete in the Kingdom of Saudi Arabia; it has a network of more than 40 factories located in various strategic cities and locations throughout the Kingdom. The company operates the largest fleet of mobile equipment in the region. Also, our Research & Development Center contributes to research in the field of the concrete industry in cooperation to research in concrete in cooperation with various institutes and academic institutions.