Highly durable concrete mixes with special additives to ensure over 100-year life span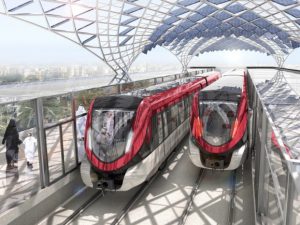 Saudi Readymix has successfully supplied almost one million cubic meters of ready-mixed concrete to Lines 1 & 2 of the Riyadh Metro project. Concrete was delivered to the King Abdullah Financial District (KAFD) main station, deep underground stations and surface stations along with the blue and red metro lines that are being constructed by the Bechtel-Al Mabani-CCC Siemens, BACS consortium.
Fadi Mujahid, Chief Commercial Officer at Saudi Readymix says "Saudi Readymix is one of the main concrete suppliers for Line 1 & 2 of the Riyadh Metro project, which, upon completion, will be the first metro of its kind in Saudi Arabia. So far, the company has supplied over 1,000,000 cubic meters of concrete to the project and has a dedicated on-site concrete factory with three major batch plants near the project site."
Fadi also says "The mega project has very strict specifications and requires different types of concrete depending on the type of structure and its application. A large part of the supplied concrete included a highly durable concrete mix with special additives that was designed to ensure over 100-year life span."
The Riyadh Metro project, which started in October 2013, is estimated to be completed in five years and will require a total investment of nearly 23 billion US Dollars. It consists of 6 metro lines spanning a total length of 176 kilometers, with 85 stations. It is expected to be the backbone of the capital's public transport system.
Saudi Readymix is the leading ready-mixed concrete supplier in Saudi Arabia with a network of over 36 factories located in various strategic locations throughout the Kingdom and employs around 2,800 employees and runs the largest fleet of mobile equipment in the region. The Company contributes in many ongoing research in concrete in collaboration with various academic institutes and organizations and has recently opened its new state-of-the-art Research and Development Center in Dammam.