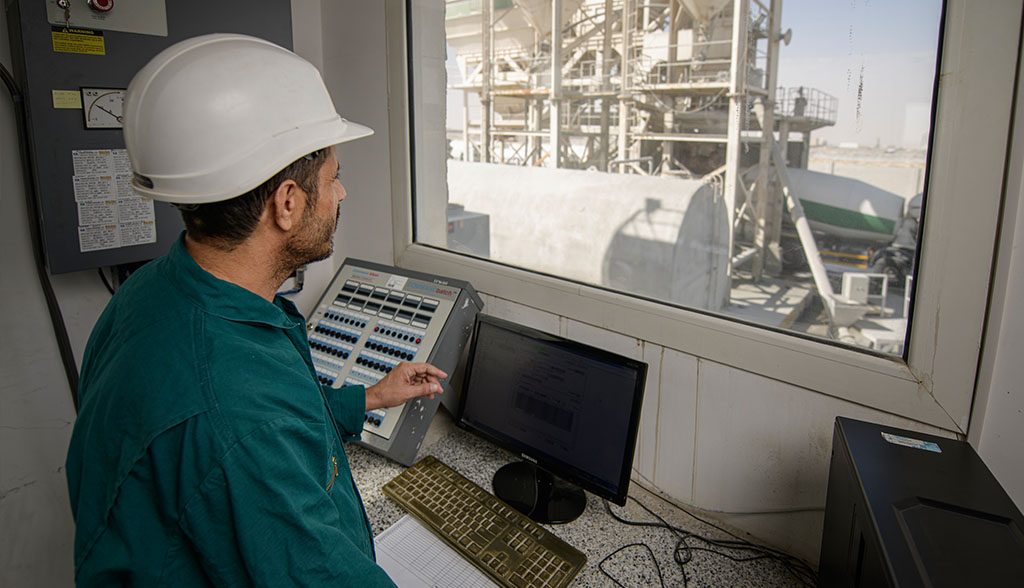 RELENTLESS CONCRETE SUPPORT
We operate over 32 commercial and on-site factories with nearly
96 computerized stationary and mobile batching plants
with production capacities ranging between 40 m³/h and 180 m³/h.
Saudi Readymix's impressive fleet is comprised of 40 types
of equipment from rock breakers to placing booms, and
everything in between.
624 truck mixers with drum capacities between10 m³ to 12 m³
188 mobile concrete pumps with boom sizes 42 – 58 m
50 placing booms with lengths ranging from 28 to 36 m
43 stationary pumps capable of pumping concrete reaching up to 700 m high
248 pick-up trucks
 56 Ice Plants
 57 chiller plants with a total capacity in excess of 9,000 tons & a production rate ranging from 110 to 200 tons.
23 aggregate washing plants units with a capacity range of
30 m³/h to100 m³/h
Fleet Tracking System
Our Fleet Tracking System Technology enables us to provide our customers and drivers with automated metrics, analytics and a comprehensive glance of all the assets as the commute. This allows us to schedule better and to tackle any challenges as they happen. The technology also helps the drivers to make some proactive decisions and make ad hoc amendments to their plans whenever required.
Saudi Readymix employs the services of independent test agencies on a regular basis to ensure compliance with the requirements of specifying authorities and to provide a comparative assessment of the company's own testing accuracy. The independent testing agencies' findings and test results are made available to clients and consultants upon request.
SAUDI READYMIX CUSTOMER APP


Contact Us
To inquire more about our cemntatious materials, do not hasitate to contact us.