Saudi Readymix at a Glance
Saudi Readymix Concrete Co. is the leading producer and supplier of ready-mixed concrete and related products in Saudi Arabia. It was established in 1978 and is a wholly-owned subsidiary of Khalid Ali Alturki & Sons Holding Company (Alturki Holding), a leading industrial conglomerate.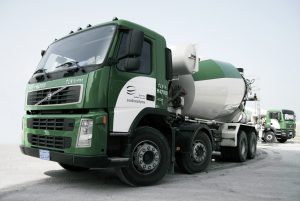 Saudi Readymix employs a workforce of about 3,000 people and operates 20 commercial and 20 on-site factories, strategically distributed throughout the Kingdom, covering all major metropolitan areas in the eastern, central, western, northern and southern regions.
Our determination to lead the industry in quality has driven us to operate under the most stringent, self-imposed quality control regimen in the industry, which has helped us to make the name ''Saudi Readymix'' synonymous with quality within the industry. This in turn has led us to work on an impressive array of prestigious projects for both the public and the private sectors. Most of the company's factories are officially approved as suppliers to major governmental and industrial authorities, such as Saudi Aramco, SEC, SABIC, Royal Commission, MoDA, Maaden, MOI, to name a few.
Each one of our factories has its own quality control laboratory, fully equipped and staffed, to conduct the routine tests needed to ensure that the end product delivered to our customers is in full compliance with the contracted specifications.
Our operations are managed through a state-of-the-art information system, Microsoft Dynamics AX ERP, which links all our factories to our head office, central workshop, and technical department.
The company offers comprehensive concreting solutions and services designed for the peace of mind of our customers. For example, we can offer complete account management from any office for all our customers who have projects in multiple locations around the Kingdom.
Vision
To be the most trusted provider of concrete solutions in the Middle East.
Mission
To provide peace of mind to all stakeholders in an innovative and sustainable manner.